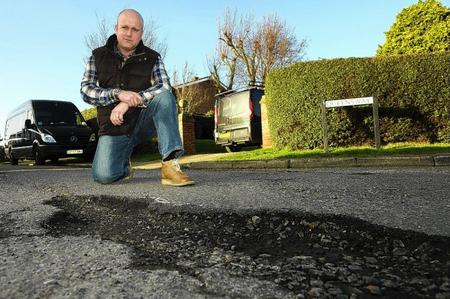 A man left crippled after tripping over a pothole is still fighting to get the road repaired three years on.
David Wiggins was walking his dog in Avery Way, Allhallows, when he fell, shattering his knee.
He was unable to work for two years, which meant he lost his job as a catering manager and lost his family home.
His son was born two months after the accident, so while David should have been running around after his little boy, he was unable to bend his leg or pick him up.
David had to undergo extensive surgery on his knee and is still unable to stand for long periods of time, which means he cannot return to his job as a chef.
The 3ft-wide pothole is on the border of Avery Way, a Medway Council maintained road, and Queensway, a private road.
Neither Medway Council, nor the Crown Estate, which owns Queensway, will accept responsibility.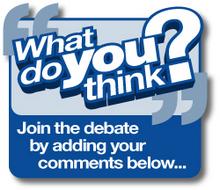 Mr Wiggins claims the pothole is within the council's boundary, which the council disputes.
He said: "I have been sent a map by Medway Council which shows the boundary line runs from the outside wall of number 1 Queensway, across the road to the boundary hedge of number 7 Avery Way.
"And the offending hole lies in the area maintained by Medway Council and the rest of it is in the privately owned area which is under the control of the Crown Estate."
A spokesman for Medway Council said: "Queensway is a private road except for a narrow area at its junction with Avery Way.
"This runs from the back edge of the path on Avery Way to a private area on the other side of the road.
"The council is working hard to ensure repairs are carried out quickly on Medway's roads, but this defect lies within the private area of Queensway and any repairs are therefore the responsibility of the owners."
The housing developer which built the homes in Queensway went into liquidation before the road was finished so the land transferred to The Crown Estate.
But David has been sent a letter from solicitors representing The Crown Estate, which denies responsibility.
The letter states that The Crown Estate cannot undertake any steps to repair or carry out remedial work.
He said: "It is so frustrating – it can't go on. I just want it to be fixed.
"I'm crippled because of the fall. I had surgery to fit a screw in my knee and I have titanium wires holding my tendons together.
"The pothole is outside a doctor's surgery and near a retirement village.
"My biggest fear is that an elderly person will fall and never recover."