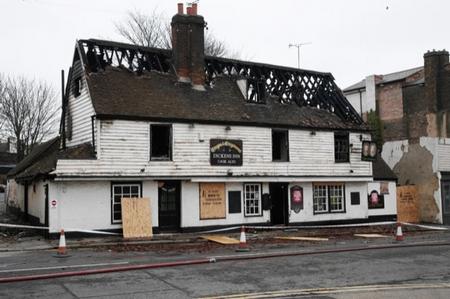 There are great expectations for a pub made famous by Dickens... after it was bought at auction.
The successful bidder - known only as Mr Singh - hopes to inject a new lease of life into the Crispin and Crispianus in Strood, after he paid £92,000 for it.
The historic pub on Strood High Street could now be restored it to its former glory to preserve the town's history.
Mr Singh, who paid £22,000 more than the predicted sale price, said: "I wanted it as a piece of history as my family used to go there every weekend going back as far as 40 years.
"It is the only historic landmark left in Strood and I want to preserve that for future generations."
"it's not every day you get a piece of history at that price" – pub buyer mr singh
In the pub's heyday, Dickens, who lived in Medway as a child and returned to the area in his final years, was a regular.
The novelist was said to sit in the corner drinking ale and people-watching, hoping to find inspiration for his characters.
It featured in his book The Uncommercial Traveller, where he described how travelling workers would stay there, and the pub had a brass plate next to Dickens' favourite seat.
Despite its history, the 17th century pub had run into difficulties and served its last orders in September 2010.
In March it was ravaged by a fire and has been a boarded-up eyesore ever since.
It is now highly unstable and Medway Council carries out regular inspections as it is feared it could deteriorate and threaten public safety.
Mr Singh, who hasn't yet seen inside the pub to survey the damage caused by the fire, said: "I'm looking forward to it and I don't see it as a challenge.
"It's not every day you get a piece of history at that price."
What are your memories of the pub? Join the debate below.