A motorcyclist was killed after a driver ignored stop signs at a junction and drove into his path, a court heard.
Michael Sharp's 1000cc Honda was struck by Virginia Pereira's car and then hit a traffic island, leaving him with multiple injuries, jurors were told.
Mr Sharp, 57 and pictured right, died at the scene of the accident on the A229 Blue Bell Hill, near the Lower Bell pub, on July 28 2011.
Pereira, 62, of Portland Street, Chatham, denies causing death by dangerous driving and an alternative charge of causing death by careless driving.
Maidstone Crown Court heard Mr Sharpe, 57, left his Chatham home in the morning to go to Aylesford to pay in a cheque at his bank.
"There was no urgency about his journey," said Martin Yale, prosecuting. "In fact, his wife had offered to pay it in for him but he had decided to do it himself and then go to visit his brother."
Meanwhile, Pereira was leaving Maidstone with her daughter in the front passenger seat in her Vauxhall Corsa and heading for a slip road at the bottom of Blue Bell Hill.
Jack Laker was driving behind Pereira on the A229 in his Renault Scenic car and saw she was driving slowly - 30-40mph in a 50mph limit.
Other traffic was overtaking her, but Mr Laker remained behind because he wanted to take the same slip road.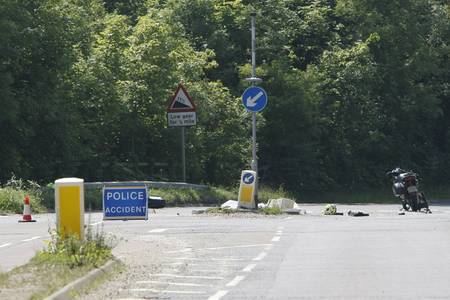 Mr Laker told how Pereira slowed down to 10-15mph as she approached the junction.
"She then accelerated straight across the junction, completely failing to heed stop signs clearly positioned at the junction and a solid white line across the road, as well as 'Stop' painted on the road," said Mr Yale.
"As she accelerated across the road, Mr Laker saw Mr Sharp approach. He instinctively shouted 'Stop', although he acknowledged there was no way she would have heard him."
The front of the Corsa hit the rear nearside of the motorbike, which then crashed into a traffic island. Pereira continued across the junction and stopped the other side.
"Mr Laker went to speak to her and remonstrated with her," said the prosecutor. "She told him she hadn't seen the motorcycle."
The jury of eight men and four women were taken with Judge David Griffith-Jones QC and lawyers to view the accident scene on Monday. Pereira, who has a Portuguese interpreter, chose not to go.
The trial continues.