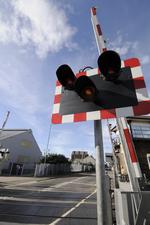 Motorists faced delays in Medway this morning, not because of the snow, but because a level crossing barrier got stuck.
The barrier in Ingram Road, Gillingham, broke just before 6.20am.
A queue of traffic soon built up as the barriers stayed in the down position as numerous trains went by.
One woman who was stuck in the queue, but didn't want to be named, said: "I sat there for a while, I was about 10 cars back from the crossing.
"After the train passed, we all waited for the barrier to go up, but it didn't and lots of people started beeping their horns. I turned round and went the other way after about 10 minutes."
Police arrived on the scene to direct traffic.
The barrier was not functioning again until 8am.