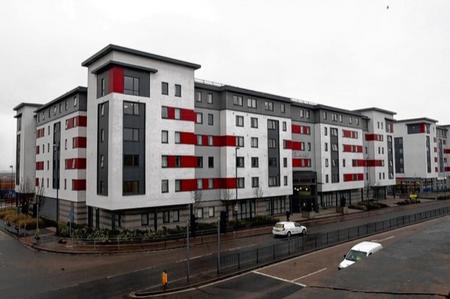 by Jenni Horn
A couple performed a sex act in a busy street in the middle of the day, a court heard.
Colin Sayer, 42, and Deborah Reynolds, 37, were caught in the act in Pier Road, Gillingham, on March 10.
Witnesses included two children who were crossing the road just yards away.
Sayer and Reynolds were seen opposite Liberty Quays, a block of university flats which is home to 600 students.
Magistrates heard yesterday how the pair were standing in a doorway.
Sayer, who had been released from prison just two days before, had his trousers and boxer shorts around his ankles, exposing himself to people in the street, and Reynolds was touching him.
Witnesses said they thought Sayer was under the influence of drink or drugs because he was unable to stand by himself and had to lean on Reynolds.
Police were called and the couple were arrested at the scene.
Medway magistrates were told Sayer and Reynolds had been drinking and when questioned by police neither of them could remember the incident.
Stella Williams, prosecuting, said: "Miss Reynolds had drunk five or six cans of lager and Mr Sayer had taken two Valium tablets and had been drinking strong lager. He said his body was not used to it because he had only just got out of prison."
Sayer, of Cobden Road, Chatham, and Reynolds, of Flaxmans Court, Brompton, both admitted committing an act of outraging public decency when they appeared at Medway Magistrates' Court on Wednesday .
Derek Hayward, defending, said: "They are both utterly ashamed. They have no clear recollection of what happened but felt they should plead guilty because witnesses have described what happened."
Sayer was given a conditional discharge for 18 months and Reynolds' sentencing has been adjourned until June 20 for pre-sentencing reports to be made.