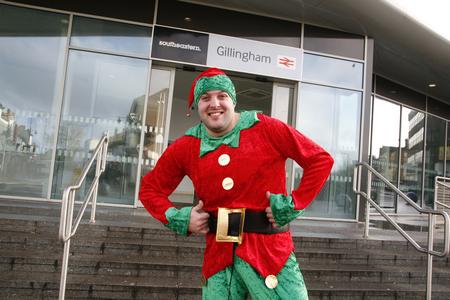 Bleary-eyed Kent commuters may have thought they'd had too many sherries on their journey to and from London.
For joining them on their commute was business development manager Jon Douglas dressed as an elf.
Jon, 29, has swapped his suit and tie for the festive costume to raise money to build a school for poverty-stricken children living in squalor in South Africa.
Every morning, Jon has been boarding the 7.04am from Gillingham to Cannon Street and returning on the 5.52pm service dressed as the Christmas character.
And he keeps it on all day to the amusement of his colleagues at the discount voucher company where he works.
Jon, of Milton Road, Gillingham, said: "Some people think I'm a bit weird and I've been getting some strange looks. But I really don't mind because it's for such a good cause."
He is raising money for Friends of Africa Child Education (Face), which has been set up by a group of friends in Kent to build a school on the outskirts of Cape Town.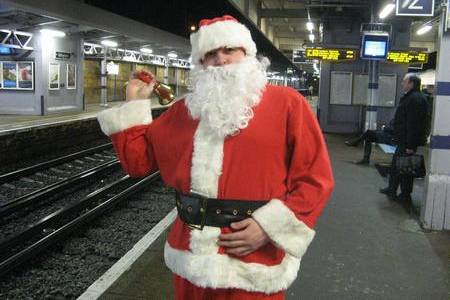 Face is partnered with the charity Masicorp, which aims to build the school in the township of Masiphumelele over the next year.
Face spokesman and Rochester businessman Nick Jenkins said: "Jon has a great sense of humour and we are thrilled he is helping us raise funds in this way.
"Building this school is so important because education is the best way out of poverty for these children.
"We hope as many people as possible will make donations and help us reach our £30,000 target."
Jon, who last year dressed as Father Christmas on the way to work to raise money for the Make A Wish Foundation, is well on the way to reaching his £1,000 goal. He has collected £660 so far and raised £400 on the first day.
He said: "Seeing me dressed as an elf gives people a smile on their way to work.
"I don't mind making a fool of myself if it can help these children, particularly at Christmas."