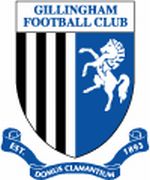 Gillingham fans will be allowed to watch the club's match with Swindon this Saturday after a row with police was resolved.
A prohibition notice was issued by Medway Council last week because of a dispute over policing costs.
Both clubs have been selling tickets for the game as talks between Gillingham FC and Kent Police have been ongoing.
Kent Police raised concerns over safety because of a long running rivalry between the two sides which dates back to the late 1970s.
The away fans are likely to be in a celebratory mood, as their team could secure promotion to League One.
Cllr Mike O'Brien, Medway Council's portfolio holder for community safety, said: "We are pleased to say that Kent Police have informed us that the dispute over costs of policing at the Gillingham FC v Swindon Town match this Saturday have been resolved and the required numbers of police officers needed will be in the ground on the day.
"Last week, Medway Council was left with no option but to issue a prohibition notice stating that fans could not attend the match until steps were taken to resolve this. We did this at the time following advice from Kent Police that they have specific intelligence concerning the match and its fans.
"The council will now contact the club and the police to clarify that this order allows for the match to go ahead this Saturday with fans from both sides attending as long as there are sufficient police in the grounds.
"We are pleased that the police and the club have reached a resolution as this is good news for supporters from both sides and means they will be able to attend and watch the game with enough police there to make sure it is safe for all.
"I hope it will be a good, exciting match, and as a Gillingham fan I shall, of course, be keeping my fingers crossed for a home team win."
A short statement from Gillingham FC confirmed the issues with the police have now been resolved.
It added: "The game will go ahead as planned."
Meanwhile, Gillingham FC's commercial director has left Priestfield after less than a year in the job.
Steve Lowe departed yesterday, according to a source close to the club. He was appointed last October.
A Gills spokesman refused to comment.