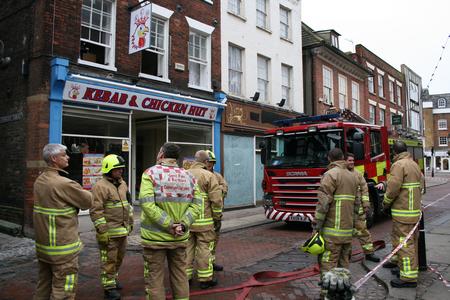 Dozens of firefighters tackled a blaze today at a kebab shop in a historic high street.
It began in the ventilation system at the Kebab & Chicken Hut, Rochester High Street.
It spread to the first floor, sparking panic when neighbours claimed they had seen people inside.
Dan Firth, owner of the nearby Nimbus Lighting shop and one of many who dialled 999, said: "It was coming out of all the windows, it was unbelievable."
When firefighters wearing breathing apparatus searched the four-storey historic building, they found no trace of anyone inside.
The call at 10.15am drew five fire engines and a height vehicle from stations as far away as Hoo and Thames-side.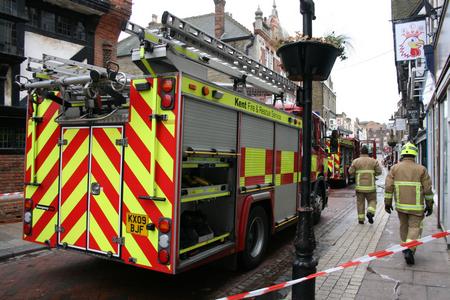 Police shut off the high street while ambulance crews stood by and firefighters put out the blaze using hoses and a fan.
Firefighters also spoke to the kebab shop owner, who it is thought was present at the time.
Mike Robins, watch manager at Medway Fire Station, said: "En route we could see the smoke coming out of the roof from Chatham Hill, so we requested a height vehicle and two additional fire engines.
"On arrival we were told someone had been seen going in and hadn't been seen since, so we searched the building but found it empty.
"It's an old-style building and we committed a lot of crews because the whole building could have been at risk."
The cause of the fire is being investigated.