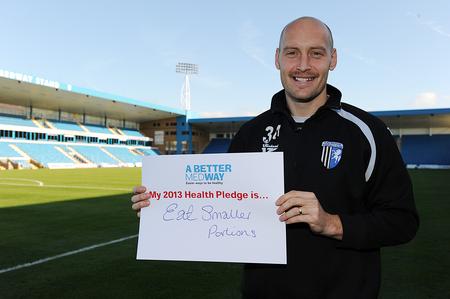 More than 1,000 people have signed up to a health campaign and now they are all being offered a free swim.
Residents have vowed to improve their health and well being in 2013 as part of A Better Medway's Healthy New Year scheme.
Pledges include exercising more, eating less takeaways, giving up smoking, joining a gym, taking the stairs instead of the lift and cooking more healthy meals with the family at home.
Among those who have made pledges are all of the players at Gillingham FC.
Due to the overwhelming response since the campaign was launched in November, A Better Medway is rewarding participants with a free swim.
Everyone who makes a pledge in January at a high street event will receive an exclusive voucher for a free swim at any Medway Council pool.
People who have made their pledge by post, online or at a previous event can claim their free swim by contacting A Better Medway.
Pledges can be made in person at a high street event, or by post using the official pledge entry form, available at GP surgeries, pharmacies, libraries or community hubs.
Make a pledge at one of the following events, Strood Market – Tuesday, January 15; Chatham High Street – Thursday, January 24; Hempstead Valley Shopping Centre – Thursday, January 31.
Visit www.abettermedway.co.uk/healthynewyear, phone 0800 234 6805 or 01634 334800, or email enquiry@abettermedway.co.uk