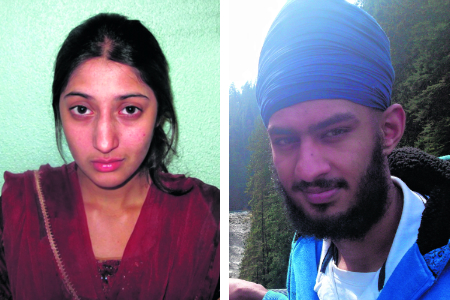 The family of a murdered TV executive has asked the Attorney General to reconsider the sentence imposed on the friend who lured him to his death.
Medical student Mundill Mahil, of Maidstone Road, Chatham, was convicted of grievous bodily harm with intent after a revenge attack on Gagandip Singh.
The former Rochester Grammar School pupil was sentenced to six years in a young offenders' institution at the Old Bailey on February 29, but Mr Singh's family feel her sentence is not long enough.
They have formally filed a request asking Dominic Grieve, QC, to look at the sentence, claiming it is "unduly lenient".
Mr Grieve will decide whether to refer it to the Court of Appeal.
Mr Singh's sister Amandip, 19, said: "I feel that six years is not enough, she was the main part of it. She will be out in three.
"What I think would be much better is if it was double figures and she was in prison for over 10 years."
Miss Singh said she met medical student Mahil, 20, whose parents run a guest house, only once but described her as a very close friend of her brother.
It was claimed in court that Mr Singh tried to rape Mahil and she wanted revenge.
She invited Mr Singh to her student home in Brighton, so he could be taught a lesson.
Mahil's friend Harvinder Shoker, who was infatuated with her, and Darren Peters, who was described as 'hired muscle', viciously beat Mr Singh. The two men then bundled him in the boot of his own car and set it alight, with Mr Singh still alive inside.
Shoker, 20, of Charlton Park Lane, Greenwich, was jailed for life with a minimum 22-year term after being found guilty of murder.
Peters, 20, of Shooters Hill Road, Blackheath, was sentenced to 12 years in a young offenders' institution after being found guilty of manslaughter.
Mr Singh's friends have launched a petition online, calling for Mahil's sentence to be re-examined.
So far it has received more than 600 signatures.