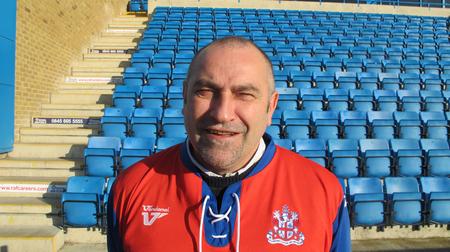 Gills have unveiled a new signing but he is a little overweight and at 53, a bit older than your average player.
Lifelong blues fan Graham Humphreys has been welcomed to Priestfield after winning the chance to join the squad in an auction.
Graham's boss at Vokes Taxis, where he works as a general manager, was the highest bidder at the Evening with Martin Allen dinner last month.
Although he won't get to play, Graham will be joining the rest of the squad for training and will be introduced to the fans before Saturday's home game. He will also be appearing in the matchday programme.
Graham was unveiled at a mock press conference at Priestfield this morning.
Manager Martin Allen said: "He is a local lad that plays up front, he has always wanted to play for his club and should be able to put a bit of weight behind our attack, if you know what I'm saying.
"There is a saying, `fox in the box`, where centre forwards find space and at his age he is a `silver fox.'
"He is part of our squad and will be put on an extreme fitness programme, we will learn from him what not to eat and before Saturday's game he will be introduced to the fans.
"He has strength, power, is a good signing and I am delighted to welcome him to our squad."
"Lance Ridden is from Vokes Taxis and on the night he paid a huge amount of money for Graham to be part of our squad so there is no transfer fee that has been paid out. We have actually been paid a fee to take him which will once again keep Mr Scally happy hopefully."
Graham, who has been handed the squad number 53 to match his age, said: "I have plenty of experience. I've mainly played as a centre half but have been signed as a centre forward. I grew up half a mile from the ground along with my agent so we are both from the area and we played a lot of local football."
Graham, who has been a Gills fan for 45 years, added: "It's a dream come true."