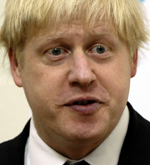 Medway Green Party has slammed suggestions by London Mayor Boris Johnson that an airport would be good for the Towns.
Mr Johnson spoke exclusively to the Medway Messenger last week and told people living here to not just listen to the "naysayers" who are against a Thames Estuary airport.
He said: "It would be the single biggest creator of jobs and growth.
"We're not resolved on any particular option at the moment, but what I would say to people in the area is don't just listen to the naysayers.
"Think about the arguments, think about the immense capacity of this scheme to create jobs, growth, hope and a fantastic amount of excitement to the area."
The party said its reaction to Mr Johnson's comments was one of "dismay".
Party member David Davidson said: "No one is giving climate change a consideration.
"If this happens it is a serious threat to combating climate change because the technological options for reducing carbon in aviation are limited".
Party leader Trish Marchant highlighted Mr Johnson's claim that the issue of bird strike at the airport could be "sorted out easily".
She said: "I can't see how he can say that. The RSPB have cited the Thames Estuary as one of the top five most important sites in the UK for water birds wintering or migrating. Because of this the RSPB have deemed the proposal unsafe.
"Even with an aggressive bird hazard management programme, the hazard to aircraft posed by birds is severe."
A report, commissioned 10 years ago when the then Labour government was considering building an airport at Cliffe, found that an airport there would be the most dangerous in the UK because of the bird population.
This time round, a commission has been set up by the government to decide whether to build an airport here.
An interim report narrowing down the options is due out this year, before a final report is released in 2015. tes suggested so far include Cliffe, Grain and the estuary.
Don't miss the Medway Messenger's 16-page airport special next week.