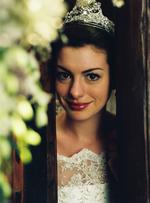 by Dan Bloom
A Chatham mum spotted A-lister Anne Hathaway - as she went incognito on a local history tour.
The Hollywood star was doing a spot of research on the Historic Dockyard, Chatham, where she has been filming for her role as a dying prostitute in blockbuster musical Les Miserables.
The cast of the film, which stars Russell Crowe and Hugh Jackman, were rumoured to be back on set this week.
But eagle-eyed mum-of-two Jo Lord spotted the actress taking a day off on the dockyard's Victorian ropery tour.
The Maidstone Road resident was on the tour with former colleagues from her job in the MOD bomb disposal school in Lodge Hill, Chattenden, last Tuesday .
Mrs Lord, 38, said: "Nobody clocked her. She was wearing walking boots with slouchy socks and baggy jeans that looked like they belonged to a boyfriend. She kept very quiet and was writing in a notebook.
"I thought, 'That looks like Anne Hathaway!' but thought she was too skinny. I was more looking out for Russell Crowe and Hugh Jackman so it was a real surprise.
"I forgot about it until The Princess Diaries was on over the weekend. I Googled her and realised she was on a crash diet for the part."
The 40-minute tour is set in 1875 and shows punters how to make their own rope.
Mrs Lord added she only clocked the star because her daughter Hannah, 19, was a huge fan of the 2001 Disney film.
She said: "She will probably be very embarrassed, but it's thanks to Hannah I spotted her."
Have you spotted one of the stars of Les Miserables in the Towns? Call the newsroom on 01634 2278203, email medwaymessenger@thekmgroup.co.uk or Tweet @MedwayMessenger