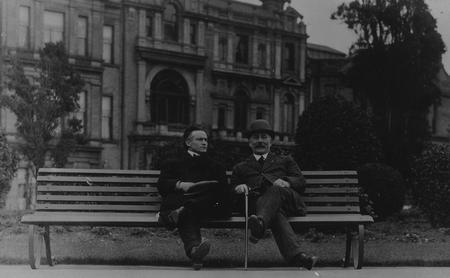 They thought they had him bang to rights. But the great escapologist had other ideas.
Harry Houdini appeared at Barnard's Palace of Varieties in Chatham on January 30, 1905. As usual he sought to perform his usual publicity stunt.
He would ask the police of any town he visited to handcuff him and lock him in the cells. Of course he always managed to get free, and at the same time get a picture and story in the local papers, which helped ensure he always played to packed audiences.
His arrival in Chatham coincided with new cells having been recently installed at the police station, which was run by Kent County Constabulary. But Houdini's request to try them out was emphatically turned down. Kent Police did not want it to get around that the new cells were not 100% foolproof.
However Rochester had its own police force headed, in 1905, by Chief Constable Alfred Arnold who was much more amenable to the idea.
The stunt involved Houdini being stripped, secured with four sets of regulation hand cuffs, locked in a cell with his clothes locked in the one next door. Other cells held members of Rochester council, presumably fully clothed.
Within three minutes, the great escapologist had freed himself from the handcuffs, unlocked his cell, broken into the cell in which his clothes were held and released the amazed councillors.
Full story in today's Medway Messenger