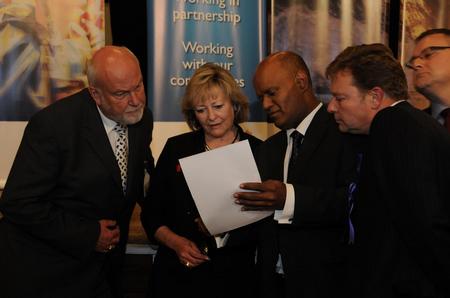 Medway councillor Craig Mackinlay was beaten in his own back yard in the race to lead Kent's police force.
Just 15% of people in Medway turned out to vote in the Police and Crime Commissioner election on Thursday.
And among those, unconfirmed results appeared to show Ms Barnes beat Cllr Mackinlay in his own River ward.
There had been predictions of a record low turnout across the country, and in Medway just 30,272 people cast their ballots.
Ms Barnes won a run-off against Cllr Mackinlay after securing 46% of first-preference votes across Kent (39% in Medway).
The candidates had a nail-biting few hours on Friday when Medway was the final area to report its results.
Ms Barnes will now be tasked with holding Kent Police to account and setting the force's budget and priorities. The job will pay £85,000 a year.
Two of the six candidates were from Medway – Conservative councillor Craig Mackinlay and former mayor Dai Liyanage, who stood as an independent.
Mr Liyanage, of Rock Avenue, Gillingham, did better in Medway after winning the support of Gillingham FC but will still lose his £5,000 deposit after coming last.
"I'm bitterly disappointed," he said. "I'm disappointed for Craig as well, I would have thought he would have done very well. The government really cocked up on this."
Cllr Mackinlay, who lives and works in Manor Road, Chatham, admitted: "It's not caught the public's imagination. The newness of it I think is a problem. People didn't understand what it was all about."
But Rochester and Strood MP Mark Reckless, a key architect of the policy, insisted it had done well.
He said: "I would have preferred the turnout to be higher, but more than 200,000 people voted across Kent.
"My complaint about Ann Barnes was she acted as if she had a mandate when she had none. She's shown a lot of guts standing as an independent and she will now have that mandate."
More coverage and analysis in the Medway Messenger, out tomorrow.
The result across Kent
Ann Barnes (Ind) 95,901 (46%)
Craig Mackinlay (Con) 51,671 (25%)
Harriet Yeo (Lab) 23,005 (11%)
Piers Wauchope (UKIP) 15,885 (8%)
Steve Uncles (English Democrat) 10,789 (5%)
Dai Liyanage (Ind) 7,666 (4%)
Turnout: 208,782 (16.3%)
Ann Barnes failed to gain 51% across Kent so entered a run-off with Craig Mackinlay for second-preference votes. Final result for Kent after second round:
Ann Barnes (Ind) 114,137 (65%)
Craig Mackinlay (Con) 60,248 (35%)
The results in Medway
Ann Barnes (Ind) 11,669 (39%)
Craig Mackinlay (Con) 7,327 (24%)
Harriet Yeo (Lab) 4,564 (15%)
Dai Liyanage (Ind) 2,489 (8%)
Piers Wauchope (UKIP) 1,920 (6%)
Steve Uncles (English Democrat) 1,913 (6%)
Turnout: 30,272 (15.7%)
Second round:
Ann Barnes (Ind) 15,017 (63%)
Craig Mackinlay (Con) 8,871 (37%)