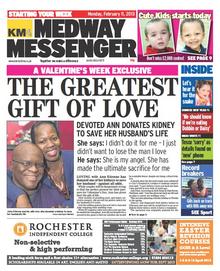 Start your week with the Medway Messenger – with all the latest news, sport and entertainment.
Our front page today is a heart-warning story for Valentines' week about how a woman saved her husband's life by donating one of her kidneys.
We've got the latest news on plans to revamp one of Medway's busiest shopping centres and an apology from Tesco mobile after a customer's details were found on someone else's phone.
Find out how you can enter this year's Cute Kids competition to be in with the chance of winning a share of the £2,000 prize pot.
We've got report and reaction from Gills' away win at Bradford on Saturday and a look ahead to the York game tomorrow.
Plus all our usual Monday features – Rebecca Hughes' Going Out guide, columnist Nikki White, TV highlights and our quiz page.
In the shops now for 55p.