The latest edition of the Medway Messenger is in the shops now with news, pictures, sport and plenty more. As 2012 draws to a close, it's time to look back with our review of the year - and what an amazing 12 months it has been. Our cartoonist Royston Robertson has come up with his own memorable moments of 2012. We've got a 12-page leisure pull-out featuring TV, puzzles and lots of quizzes. There's also a special game for Fun Club members to play.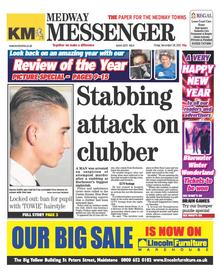 Peter Cook features Harry Houdini's g visit to Rochester and Chatham in the Medway Memories pages and he's also in the driving seat for The Codgers - find out what he thinks about the latest location put forward for a major hub airport in this area.
Dan Bloom celebrates the 100th anniversary of the Rochester Motor Club and there are picture specials from the Oliver Fisher Special Baby Care Trust Christmas party and the Santa fun at Thomas Aveling School in Rochester.
The review theme continues in sport with a look at the Olympics.
It's all in the Medway Messenger - in the shops now.