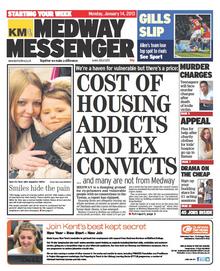 The Medway Messenger is out today with all the latest news, sport and entertainment.
A charity shop has appealed for help after its stock was destroyed in a blaze and a report has claimed Medway is a dumping ground for ex-prisoners.
Friends and family have rallied round to help a toddler who has been struck by a rare brain illness, while the government has promised to toughen up on knife crime following the death of Gillingham dad Dave Young.
If you are looking for something to do this week – don't miss Rebecca Hughes' Going Out guide with music, theatre, art and cinema.
And if you don't fancy braving the cold, check out the TV highlights in Box Clever and get your grey matter working with our quiz page.
In sport, Gills boss Martin Allen has promised the team will improve following Saturday's loss to Port Vale. We've got four pages of report and reaction on the match.
In the shops now – for 55p.