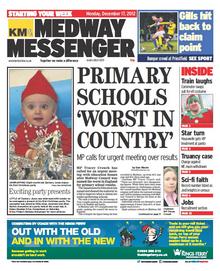 Start with week with your Monday Medway Messenger – with all the latest news and sport.
With just a week to go until Christmas – the Medway Messenger has gone all festive. Our columnist Nikki White writes about the perils of Secret Santa at the office while kmfm columnist Emma Saint is counting down the days to December 25.
Find out why one London commuter has swapped his suit for an Elf costume and what our reviewer thought of the pantomime at The Central Theatre, Chatham.
If you are looking for something to do this week, don't miss Rebecca Hughes' Going Out guide. Or in you fancy a night in front of the telly, check out the TV highlights and soap gossip in Box Clever.
In sport, we've got report and reaction from Gills home game on Saturday plus a round-up of local matches.
In the shops now for 55p.