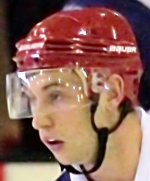 Invicta Dynamos coach Kevin Parrish has brought in experienced defenceman Tyrone Miller to strengthen his under-performing team.
Miller helped Romford Raiders to the Division 1 South Championship last season and replaces departed Tom Avery, pictured.
Parrish is delighted with his signing, who arrives from Streatham Redskins, and said: "He is not there to score points. He wants to keep clean sheets. He is strong and quick with the puck and reads the game well.
"He gets good angles on the ice and will push forwards into spaces they don't want to go."
On the departed Avery, Parrish said: "He hadn't been getting much ice time recently and it's been getting less and less. He didn't do anything drastically wrong and the guy has got the potential to be really good but he is so laid back he is horizontal."
Dynamos were without a game last weekend but return with a trip to Cardiff Devils on Saturday and then host Streatham Redskins on Sunday.