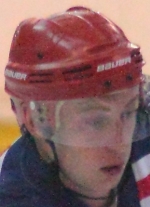 Defenceman Tom Avery has been released by Invicta Dynamos.
Invicta were without a game at the weekend and it enabled head coach Kevin Parrish extra time to assess his roster.
A difficult first 12 games in the NIHL South Division 1 has seen the Gillingham-based side win six and suffer six defeats, leaving them well adrift of the leaders.
Avery, pictured, joined Invicta at the start of the season but the 22-year-old has now been released from his contract.
Parrish said: "The 2012-13 season has not started as well as we would like and a few alterations are needed to make us competitive for the remainder of the campaign.
"Tom has found his ice time limited in recent weeks so I have made the decision to release him from his contract. Naturally, I wish him all the best for the future".
The Mos face a double-header this weekend, with a trip to the Cardiff Devils being followed by a visit from Streatham Redskins on Sunday.