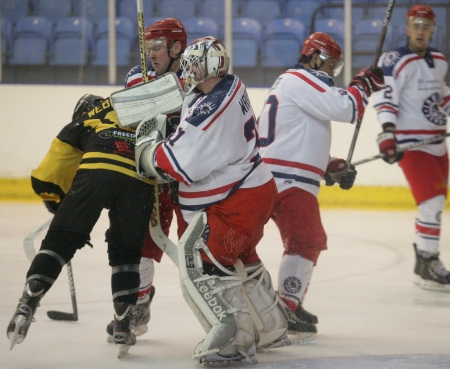 Invicta Dynamos enjoyed a four-point weekend with wins over Solent and Bracknell.
The Mos travelled to NIHL South Division 1 basement boys Solent & Gosport Devils on Saturday and came away 4-1 winners.
Two from Peter Vaisanen and a goal each from Nathaniel Rose and Andy Smith ensured Kevin Parrish's men left with maximum points.
And the scoreline could have been even greater had it not been for home netminder Chico Cole, who faced 84 shots during the game.
The Bracknell Hornets were the visitors to Gillingham on Sunday and the Mos took another victory, this time edging 5-4 winners.
Andy Smith put the Mos ahead in the first period but just one goal still separated the sides by the close of play in the second, as the hosts led 3-2.
Vaisanen and Justin Noble were on target for Parrish's side and further goals in the final period, from Andy Smith and Tim Smith, saw the Mos home.