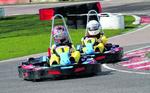 A karter suffered a cardiac arrest while on the track at Buckmore Park.
The man, 56, was treated by an off-duty doctor and staff at the Chatham circuit, according to another driver.
He was taken to the William Harvey Hospital in Ashford, which specialises in treating heart conditions.
Kent Air Ambulance was called just before 2pm on Sunday and a doctor in the crew accompanied paramedics by road to the hospital.
It is believed the driver veered and crashed into the fire wall after falling ill.
Bill Sisley, Buckmore Park's managing director said: "There were no other karts involved.
"The venue has set procedures and these were followed. At this time the driver is in hospital and therefore we cannot comment further."
The race event on Sunday involving 32 teams from all over Britain was resumed later in the afternoon.
Mr Sisley added that drivers were kept informed of what was going on.