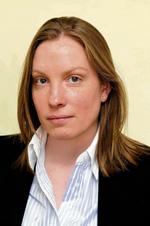 Tracey Crouch has asked for editors of local newspapers to be given an equal say in changes to regulation of the press.
The Chatham MP asked Culture Secretary Maria Miller if the local press would be given a say as the government decides what to do in the wake of the Leveson report.
She spoke in a debate in the House of Commons today (Monday).
Fellow Conservative MP Rob Wilson tweeted: "Local press will get its say on #Leveson. Well done to Tracey Crouch for raising!"
The Leveson inquiry, set up last year to examine the culture, ethics and conduct of the press, has recommended a new independent regulatory body, backed up by law.
Miss Crouch and Rochester and Strood MP Mark Reckless have backed Prime Minister David Cameron's claim that such a move would be "crossing the rubicon" into press freedoms.
Rehman Chishti, who represents Gillingham and Rainham, recently put his name to a letter widely interpreted as supporting legislation.
Prof Tim Luckhurst, of the Medway-based Centre for Journalism, who is a leading campaigner against state intervention, described Leveson as "profoundly and utterly misguided".
He added: "We must defend free speech. I see no reason to allow a judge to alter the British constitution. A free press is essential to a free people."
But many claim self-regulation has failed and changes needed to be made.
The Hacked Off campaign, which is backed by victims of press intrusion, wants Lord Justice Leveson's recommendations implemented "in full".
A petition making the call has so far gained more than 130,000 signatures.