Home sweet home. It certainly is for Louis Pearson, who this week celebrated his 100th birthday in the house he moved into when he was four years old.
And great-granfather Louis who, with wife Gladys, raised their three children Ian, Linda and Rosemary at the cosy terrace in Cliffe, wouldn't have it any other way.
With his family gathered as he read his treasured telegram from the Queen, he admitted not a lot had changed at home over the decades.
The shed where he spent hours tinkering with his beloved vintage bike stands at the bottom of the garden, and likewise the vegetable lot where he nurtured fresh produce for his growing family.
The only aspect that has altered is that one of the bedrooms has been turned into a bathroom to replace the tin bath and outside toilet. But after marrying Gladys in 1948, who he met while working at Shorts Brothers in Rochester, she insisted on the bathroom.
The house, built in 1914, has survived two World Wars but did have the windows blown out by a V2 rocket. Louis recalls: "Before the houses were built at the back you could quite clearly see over the water to Essex.
I remember seeing a Zeppelin airship come down over the fields."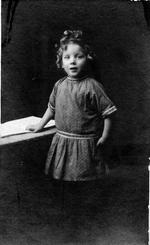 Louis's dad Mark Pearson, who ran a successful grocers business in Gillingham, decided to invest his money in property. He bought a plot of land at auction in May 1910 for £800. It is believed the previous owner, a builder, had gone bankrupt leaving two partly built properties on it.
Mark added another three pairs of homes on his plot, with his family - wife Sarah, daughter Molly and sons Arthur, Ern and the youngest, Louis - occupying a house in the middle.
When Mr Pearson Snr died in his early 50s in 1923, Sarah lived off the rent of the neighbouring homes. When she died in 1948, the four children inherited the properties.
Louis's daughter Linda Smith, 60, said: "We had lovely childhood memories. Long summer days and being outside all day."
Louis said: "We could never really afford to move away. But then why should I when I have everything I need here?"