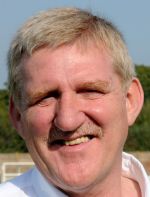 By Craig Tucker
Maidstone Football Club are already looking at expanding the Gallagher Stadium.
Co-owners Terry Casey (pictured) and Oliver Ash want to increase capacity, add a second bar and build more classrooms to cater for extra academy students.
The club budgeted for crowds of 800-900 this season but have averaged 1,650 at league games. Mr Casey said: "It's gone so well and given us the best problems you could possibly imagine. We've got loads of different ideas – as many ideas as we have fans.
"We have a bit of a problem making sure everyone can see clearly and it's something we must try to address. We can extend the terracing at both ends and also raise them by putting in more steps.
"The big one would be to extend the main stand and add another 200 seats. It's quite complicated and would cost about £500,000 but it's on the agenda. Another issue is the bar isn't big enough for the number of people using it so we need a second bar.
"The club shop has also been successful but has operated out of a tent and then one of the classrooms, so we need to do something about that.
"The other big problem is the academy. It's proved such a success that we need more classrooms. We'd like to accommodate 100 students (the club currently cater for 65). We're looking at our options but we don't want botch jobs.
"We want buildings that will stand the test of time but when you're looking at permanent structures, it becomes expensive."
The New Year's Day crowd of 2,291 for United's match against Sittingbourne was allowed to go slightly over the official capacity.
But with big crowds expected during the promotion run-in, the Stones are set to ask the local authorities to increase the capacity. Mr Casey added: "I don't think we'll do any building work before the end of the season as we need time to put the finance in place and get planning permission."