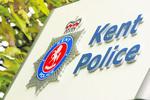 A man threatened to jump off Rochester railway bridge today (Thursday).
The 31-year-old was discovered on the bridge shortly before 5am and police and Medway's coastguard team were called.
Trains going into London were delayed while police talked the man into coming down.
Shortly after 8am he was talked down and services resumed.
A police spokesman said: "The man has been taken to hospital."