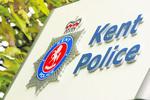 Police are appealing for witnesses to reports of an attack in Chatham that left a man with a slashed ear.
The incident was reported to have happened just after midnight on Sunday in Lords Wood Lane.
A 34-year-old man reported that he saw a group of four young people running towards Princes Avenue after causing damage to property nearby.
He chased the group down the road and asked what they were doing. He then felt pressure on his right ear and the group then ran off. He noticed drips of blood on his clothes and that his earlobe had been sliced with what has been described as a sharp object.
The four members of the group have been described as white men and aged between 17 and 18.
One of them has been described as a large build and about 6ft tall. The other three were described as being about 5ft 11ins and of slim build.
Anyone with information is asked to contact DC Mark Silk on 101, quoting reference XY/037596/12.
Alternatively if you wish to remain anonymous, call Kent Crimestoppers on 0800 555 111.