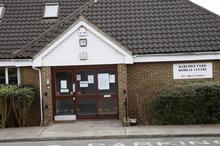 A medical centre threatened with closure is set to be saved after health bosses agreed to offer a new contract.
Marlowe Park Medical Centre in Wells Road, Strood, was told it would have to close in March, because owner Dr Sanjeey Kumar Juneja failed to sign a contract extension on time.
But the move sparked outrage among angry patients who said they would be left with nowhere to go.
NHS Kent and Medway Primary Care Trust later offered a three-month contract extension to the surgery to allow for discussions about its future.
Last Friday it was announced that a contract had been proposed by the Primary Care Trust (PCT), allowing the surgery to remain open on a permanent basis.
The new report from the PCT will be discussed at the Health and Adult Social Care committee of Medway Council tomorrow (Tuesday).
In the report, a spokesman for the PCT said: "Following a number of discussions regarding the future provision of GP services for the patients of Marlowe Park Medical Centre, NHS Kent and Medway has decided to offer Dr Juneja a General Medical Services contract.
"This will take effect from July 1, and will provide Marlowe Park patients with the continuity of care they have asked for."
The GMS contract is said to provide "more certainty" regarding continuity of care, be more cost effective and provide incentives to contractors to increase commitment to their practice.
But speaking on Friday, Dr Juneja said he was not aware of a contract agreement being reached.