by Jenni Horn
Councillors have agreed to hand over a six-figure sum to buy back Chatham's Pentagon bus station.
Medway Council approved the deal with Arriva, thought to be worth £300,000, at a behind closed doors meeting last night (Thursday).
The new bus depot in Globe Lane is due to open in October, following months of delays.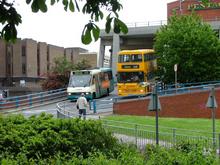 Arriva owns a 42-year lease on the Pentagon site, which expires in March 2018.
It is thought the company, which runs almost all of Medway's bus services, asked for the six-figure sum from the council for the lease and other costs of the move.
An emergency council meeting was called to discuss the agreement but neither the press nor the public were allowed to attend.
The Medway Labour party challenged the ban but their request to open up the meeting was refused.
Despite opposition from Labour and independent members, the council agreed to hand over the money.
Cllr Alan Jarrett (Con), cabinet member for finance, said the confidential deal was the culmination of long-running negotiations with Arriva.
He added: "Arriva originally wanted substantially more but after entering into a dialogue with them we have agreed a much lower figure.
"The money will be taken out of the council's reserves. The reserves are intended to be used for projects such as this. Obviously I would rather the money had been used on something else but it is after all the council's responsibility to provide services and the new bus station will be an important service to the people who will use it."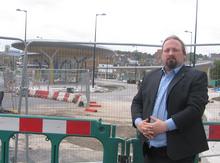 Medway Labour group said the whole bus station project had been poorly managed by the Conservatives.
Labour spokesman Cllr Vince Maple said: "The deal is another failing in a list of many failings. It is a bad deal."
Last month The Medway Messenger exclusively revealed the bus station and surrounding roadworks are £1 million over-budget.
The new facility was due to open this spring, but now the opening date has been set as Monday, October 10.