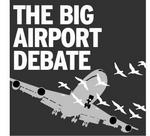 by Alan McGuinness
Medway Labour politicians have spoken out against the idea of a Thames Estuary airport at their party's conference.
All three of the Towns' constituency associations – Chatham and Aylesford, Gillingham and Rainham and Rochester and Strood – raised urgent motions on the issue, and these gained support from 40 fellow constituency parties around the country.
The party leader Cllr Vince Maple spoke at an event on the fringes of the conference in Manchester, where he raised concerns about the impact of any airport on the Towns.
He said: "Today sends another clear message that the Labour Party both locally and nationally is absolutely opposed to any airport in the Estuary.
"It was great to hear people from around the country supporting use of existing airport capacity and developing better links between airports as a much more acceptable way forward."
Cllr Tristan Osborne, who represents Luton and Wayfield, spoke on the main stage on Monday.
He called on the Towns' three Conservative MPs to speak out against the idea at their own party's conference next week.
He said: "They have an opportunity to challenge this proposal head on at Conservative conference; will they do the right thing next week or shirk their duty to our residents?"
Tracey Crouch, Mark Reckless and Rehman Chishti are also opposed to the idea, along with Medway Council and the RSPB.
They claim it will cost too much money and cause huge environmental damage. Supporters counter that it would bring investment and jobs.
A commission has been set up to find what would be the best option for expanding the UK's aviation capacity. It is due to report in 2015.