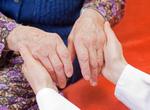 A senior matron at Medway Maritime Hospital has defended the controversial care plan that has been branded an "assisted death pathway".
A review into the Liverpool Care Pathway (LCP) is to be carried out by the Association for Palliative Medicine amid claims that it can actively hasten death.
The LCP was developed at the Royal Liverpool University Hospital and the city's Marie Curie hospice to ease suffering in dying patients, setting out a framework for how they are to be treated.
It involves the withdrawal from patients of treatments or tests which doctors believe could cause distress and offer no benefit to them.
The review by the Association for Palliative Medicine comes as several families have said their loved ones were put on the pathway without their consent. Graeme Hendry, end of life care matron at Medway NHS Foundation Trust, said discussions will always take place with a patient's family.
He added: "The ultimate decision lies with the senior doctor in charge of the patient's care but they will hold discussions with the patient where appropriate and always with the family.
"Before the decision is made, there needs to be discussions with the patient's family and there needs to be an acceptance that the patient is dying. The Liverpool Care Pathway only comes in when that recognition has been made."
Mr Hendry said reports in the national press had been misleading and that the Liverpool Care Pathway did not mean a stop to all treatment. He explained: "We assess each treatment to determine if it is invasive, uncomfortable or unnecessary for a patient in the last hours or days of their life.
"Blood tests which can be painful and invasive is an example of something we would look at."
Neurologist Dr Patrick Pullicino claimed LCP was an "assisted death pathway". According to Dr Pullicino, patients are being placed on the LCP without clear evidence that they are close to death.
Mr Hendry said: "The Liverpool Care Pathway is certainly not euthanasia. It does not hasten death.
"It ensures the right type of treatment is used of the end of life.
"The comfort and dignity of the patients remain the key goals of care."