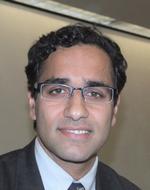 A Medway MP is one of more than 100 who will vote against allowing gay marriages.
Gillingham and Rainham's Rehman Chishti is among 118 Tories who plan to revolt against plans to allow same sex marriages.
He is believed to have written to his some of constituents indicating his unease at the plans, after they contacted him to voice their concerns.
If all 118 vote against the plans, it would be the biggest Tory rebellion in modern times.
The vote could happen as early as January after Prime Minister David Cameron decided to push the issue up the political agenda.
The MPs bitterly oppose Cameron's controversial policy to make gay marriage legal.
Mr Chishti said: "I do not support any redefinition of marriage, which is based on my own principles and is in accordance with all faiths.
"People in gay and lesbian relationships can enter into a civil partnership with the same rights, and I fully support that."