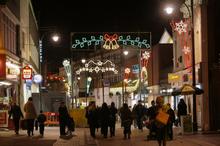 Shops were bracing themselves for a surge in business over the weekend as Christmas shoppers rush to pick up late gifts.
So far, while festive jumpers and cardigans have been flying off the shelves, the tills have not been jingling quite so loudly as expected this month.
But with December having four full weekends before Christmas Day, trade has picked up during the month and Saturday and Sunday are expected to be busy.
Sales and footfall at Hempstead Valley Shopping Centre are both currently down on last year.
Centre manager Mark Rumfitt said; "Sales are expected to be around 1% up on last year over the Christmas period but with inflation running at 2.7%, the volume of sales is expected to be down on last year.
"We are expecting this weekend to be very busy as shopping for fresh food increases and there are extended trading hours."
On Christmas Eve, the centre's Marks & Spencer store is open from 12.01am and Sainsbury's from 6am.
Mr Rumfitt said: "It has been a difficult year for retail as customers have kept a tight control on expenditure.
"There is still a lack of confidence and optimism in the economy and customers are focused on getting the best value they can."
M&S manager Graham Bennett confirmed the trend for late sales. "The most popular items are chunky jumpers and cardigans, specifically Christmas knitwear, and smartphone gloves," he said.
Martyn Stone, director of the Pentagon Shopping Centre, Chatham, said times were tough.
He said: "We know that trade has been difficult in some areas. However, some of the sales feedback we've recently received from retailers has been positive and very encouraging and the Pentagon's footfall is performing above what's happening nationally.
"We've been striving to give customers a great shopping experience both in the Pentagon and in Chatham and to give them reasons to keep coming back."
Anthony Sutton,centre manager at Dockside in Chatham Maritime, said there had been a steady growth in footfall and sales in the last three months.
He said: "With the Christmas lights switch-on event, the busiest it has ever been, new stores such as Nike, Double Two and The Gift Company all opening in the last three weeks and a busy Christmas so far, 2013 looks set to be a positive years for Dockside."
Last weekend was Bluewater's busiest of the year so far with about 240,000 customers coming through the doors.