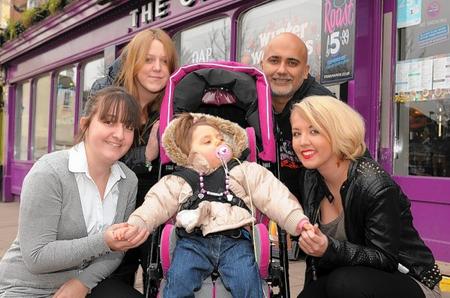 The mum of a toddler struck by a devastating illness says she is touched by neighbours and even strangers rallying round to help.
Three months ago, Samantha and Louie De Vere were leading a normal family life with their toddler daughter when little Millie suddenly had a seizure.
The couple then found themselves facing every parent's worst nightmare as the little girl continued to suffer seizures while being put in and out of medically-induced comas.
Doctors told the family she might not make it. On the eighth day the tot woke and started talking, but that night she suffered another seizure and has been unable to speak since.
After sustaining swelling on the brain and severe brain damage, the two-year-old had to spend almost six months in hospital.
Now she is back at home in Lordswood, but life has changed drastically for the young family.
Mum Samantha said: "It has been hard because we had a bubbly little girl running around and now she is wheelchair-bound and can't do things for herself like sit up and she has to be fed through a tube."
Doctors have since diagnosed Millie as suffering from an incurable brain illness, which they believe only two people in the world have been diagnosed with.
After hearing about the family's plight, friends and strangers started fundraising to help pay for specialist equipment and Millie's future care.
Among them was local nightclub owner Sanjay Raval, who raised £650 after auctioning himself off as a slave for an hour and holding a karaoke fundraiser at the City Wall wine bar in Rochester.
Sam said: "It has been really lovely what everyone has done and how everyone seems to care, especially complete strangers like Sanjay."
In total, more than £3,000 has been raised, which has been split between the family and Ronald McDonald Housing Charities, which provided accommodation for the couple while their daughter was in a London hospital.
To find out more, search Donations for Millie's Mat on Facebook