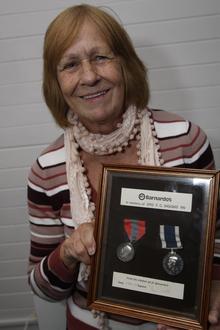 by Rebecca Hughes
What is the story behind these war medals, which were found covered in dust on a shelf?
It is thought the pair of medals, displayed in a frame, may have been untouched for years.
They were discovered in a communal area at Longdown House in Snodhurst Avenue, Chatham, supported housing run by mhs homes.
The medals appear to belong to Chief Petty Officer Frank C. Wiggins, who lived in the home until his death in 1998.
Staff are now trying to trace his family members and find out more about Mr Wiggins.
Pat Austin, tenant board member of mhs homes group, said: "They were just found on a shelf last year and we didn't know what to do with them.
"They weren't up on the wall and it was a shock finding them.
"We have exhausted our search as to the origins of them and would like people to get in touch if they have any knowledge or memories of Frank Wiggins, which would help solve the mystery."
The home tried tracing him through the Medway Archives and believe he was born in Gillingham in May 1906 and lived in St John's Road at one time.
Ms Austin added: "We know very little about him.
"It is quite sad really, but there is no sort of connection.
"There was a lady here, who is unfortunately not here any more, and she did remember him being there, but that was all.
"I did contact the previous home managers and all they remember is that he was a quiet man.
"We don't want to dispose of them if there is a chance that there is someone out there that is related to him."
Anyone with information relating to Mr Wiggins can contact Ms Austin on 01634 666656.