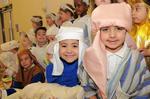 Take a break from the Christmas shopping with your Medway Messenger today.
The spirit of Christmas is captured with our lovely nativity pictures from primary schools around Medway.
And there's a free festive TV guide covering the whole two-week holiday period inside your What's On pull-out.
Sport doesn't stop at this time of the year and our 11-page section is packed with local action including Gills preparations for a vital programme of matches.
With the best local news stories, plus jobs, homes and motors - it's a must read for the holidays. Get your copy today!