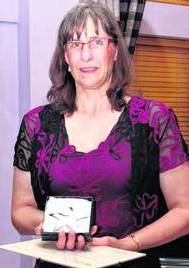 Have you been treated at hospital and feel someone there deserves a special thank you?
The Medway Messenger has once again teamed up with Medway NHS Foundation Trust to offer a readers' Hospital Hero award.
We want to hear from anyone who feels someone at the hospital has gone above and beyond the call of duty to deliver outstanding care or treatment.
From cleaners and porters to midwives, doctors or surgeons, or even volunteers - if you feel you have had exceptionally good treatment, let us know.
The annual staff awards, now in their 11th year, are organised by the trust's Improving Working Lives team.
Last year readers of the Medway Messenger were given the chance to nominate someone for the hero award for the first time.
The 2012 winner was nurse Gill West (pictured above). She was nominated by Lordswood couple Dan Heffernan and Louise Mathieson whose son Ryan died aged just one day old.
The couple nominated Gill because she helped them create some precious memories with Ryan before he died, encouraging them to hold him and say their goodbyes.
Louise said: "Without Gill we would have not experienced the touch of our son's skin, have memories of how he looked and we would not have said goodbye. Nor would we have the precious photos we now cherish and look at each day. Without Gill we would be living with so much regret."
Other nominees includes a casualty nurse who helped save his neighbour's life, a hospital radio volunteer, a surgeon who put a patient at ease and the hospital gardening team.
The Medway Messenger's Hospital Hero Award will be presented at the Medway NHS Foundation Trust's annual awards night later this year.
The winner will be chosen by the Improving Working Lives team and Medway Messenger editor Bob Bounds.
Mr Bounds said: "The Medway Messenger is delighted once again to be able to recognise the work of unsung heroes at Medway Maritime Hospital."
To nominate someone for the hospital hero award, write to Hospital Hero, Communications department, Postgraduate Centre, Medway Maritime Hospital, Windmill Road, Gillingham, Kent, ME7 5NY or email communications@medway.nhs.uk.
Please include a short description of why you think they deserve the award and what department they work in if possible, as well as your contact details. The closing date is Monday, February 25.