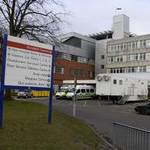 A ward at Medway Maritime Hospital was shut for five days after an outbreak of the potentially life-threatening Norovirus, also known as the winter vomiting bug.
Hospital staff have asked visitors to stay away if they have symptoms, after seven cases of the sickness were diagnosed.
Last Thursday the Will Adams general medical ward was closed and was not re-opened until Tuesday after a thorough hygiene check.
Linda Dempster, head of infection prevention and control, said: "It is imperative that hospital visitors who have been unwell or who have had contact with patients with diarrhoea and vomiting do not visit the hospital until they have been symptom-free for 72 hours."
The bug is typically associated with the winter months and, since the start of November, the hospital has seen an increase in the number of patients showing signs of it.
Norovirus is the most common stomach bug in the UK and can affect all ages. Strict infection prevention and control precautions are put in place for affected sufferers.
Symptoms usually begin about 12 to 48 hours after the patient is infected and can last for 12 to 60 hours.
The illness starts with a sudden onset of nausea followed by projectile vomiting and/or watery diarrhoea.
There is no specific treatment so sufferers are advised to let the illness take its course and drink lots of fluids.
It can, however, be dangerous for the very young, elderly, sick or frail.