The parents of a little girl who died of leukaemia have collected £10,000 in her memory - and are a quarter of the way towards their fundraising target.
Three-year-old Amelia, nicknamed Milly Moo, died in May 2010, just five months after being diagnosed with the disease.
Her parents Donna and Jon want to raise £40,000 to buy a caravan where children with cancer and there families can enjoy precious time together during treatment.
Their latest fundraiser was a quiz night at The Waggon at Hale pub in Chatham, which collected £215.
Other money-spinners have included a Disney fancy dress ball, a bingo evening and a non-uniform day at Chatham Grammar School for Boys.
Donna and Jon, of Lodge Hill Lane, Chattenden, have now launched bright pink wrist bands to raise cash and awareness.
Donna, 28, said: "We chose pink because it was Amelia's favourite colour. She was a real girlie girl.
"They have been selling really well. We ordered our first 1,000 and we already need more so we are ordering another 1,000."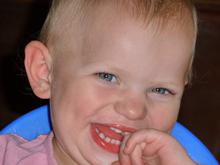 The couple, who have two other children, Poppy, one, and Jimmy, two, are hoping the caravan at Allhallows Leisure Park will enable other parents to create treasured memories with their children.
Their target was to raise £5,000 this year - a figure you need to achieve to be granted charity status from the Charity Commission.
Donna, a Pride in Medway finalist, said: "To smash that target is brilliant. We can't believe how much we have raised. We are flabbergasted.
"We are so grateful for everyone's support. We want to say thank-you to everyone who has donated."
Donna and Jon's next fundraiser is a festive red party on Friday, in Bells Lane, Hoo.
All guests have to wear something red. There will be disco, buffet, raffle and Santa's grotto. All children get a present from Father Christmas. Tickets are £10 for adults and £2 for children.
Visit www.themillyfoundation.co.uk to find out more or search The Milly Moo Foundation on Facebook.
Wristbands cost £1. They are available from Headcase salon and the Waggon at Hale pub, both in Chatham.
You can also contact Donna at themillymoorightnowfoundation@hotmail.co.uk if you would like to buy one or help sell them at your shop or pub.