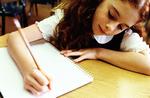 Council bosses want to stop parents buying their children private Medway Test tutoring – because it could make them "just successful at the test".
The statement comes after Kent County Council pledged to change its 11-plus to try and make it tutor-proof.
Kent's plans were revealed in a national newspaper this week, with education spokesman Mike Whiting saying: "I would like to see a test that is less coachable."
Medway Council said there are no specific plans to tutor-proof Medway's test but a spokesman said: "The Medway Test arrangements are under constant review and we always look to ensure that all children who sit the test have the best possible experience."
The council has also put out a specific plea to parents not to give their children a leg-up.
Hundreds buy private tutoring to perfect their children's technique on the exam.
The council spokesman said: "Parents and carers are discouraged from engaging private tutors.
"Accessing grammar school education is not just about being successful at the test. It's about a child maintaining the educational levels expected by a grammar school throughout their secondary education.
"Schools are also discouraged from additional tutoring or classes for the test."
Medway Council is due to release the number of passes per primary school – in the first year in which pupils sat the exam in their own school.
Larger test centres were used until last year, when some parents voiced their fury at delays and poor organisation on the day of the test.