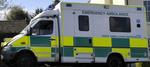 Two pensioners were taken to hospital after their car overturned on a quiet residential street.
Firefighters had to cut a man and woman in their 70s from the wreckage in Ravenswood Avenue, Strood.
The car had ended up on its roof just before 2pm. It is not clear how the crash happened.
The pair, believed to be husband and wife, suffered chest injuries and were taken to Medway Maritime Hospital. Their injuries are not thought to be life-threatening.
The Kent Air Ambulance also landed on a nearby recreation ground, but there was no need to airlift the couple to hospital.