Police have released CCTV images after an armed robbery in Rochester which they believe may be linked to another at a Post Office in Sittingbourne.
Officers were called to AJ News in Borstal Street, Rochester, at 8.40pm on Saturday, December 22, after it was reported two men entered the shop and threatened staff with what is thought to have been a hand gun.
The men, who left on a motorbike, made off with about £100 cash and a small quantity of cigarettes.
One of the men is described as stocky build, about 6ft 3ins tall, wearing a grey hooded top, grey gloves, dark trousers and a white and blue crash helmet with a circular motif.
The other man is described as thin build, about 5ft 11ins tall, wearing a white baseball cap, a black jacket with a white or yellow vertical stripe down the front and black shoes. He was also wearing what appears to be a dark cover over his mouth.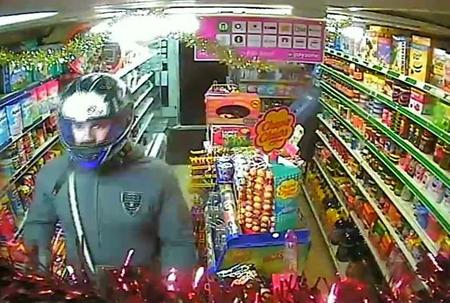 Police are not ruling out the possibility it could be linked to an armed robbery at a Post Office in Milton Regis, Sittingbourne, on December 10.
Anyone with information is asked to contact DC Dave Godden on 101 quoting reference XY/039327/12.
Alternatively call Kent Crimestoppers anonymously on 0800 555 111.