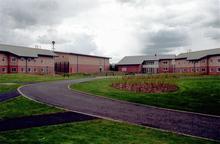 An institution for child offenders has been rated outstanding.
Medway Secure Training Centre, which is privately run by G4S in Sir Evelyn Road, Rochester, was highly praised by Ofsted inspectors.
It looks after up to 76 young people aged 12 to 17 who are either serving custodial sentences or on remand.
In October, figures were revealed showing almost one child inmate a week has needed medical treatment after being physically restrained at Medway STC, pictured above.
More than 100 young offenders had wounds - including nose bleeds, bruising and sprains - looked at after being restrained by staff in the two years to 2009.
But an Ofsted inspection in September 2009 showed incidents of physical restraint had decreased by more than half and rated the overall quality at the centre as good.
Now two further surprise visits have been made by a team of social care and education inspectors.
Their report found managers are "clearly confident and competent" and highlighted the centre's ethos that "residents are children first and offenders second".
Medway STC was rated outstanding across nearly every inspection area.
In the last year, 40 GCSEs have been gained by young people in the centre.
Inspectors praised English and maths, with young people making around eight months' progress in just three months.
Centre director Ben Saunders said: "We focus on providing a healthy, safe, secure and caring environment for every child and we're pleased that these areas have all been rated highly.
"However, we also strive to ensure that children leaving us do so better equipped to return to their community and avoid reoffending."