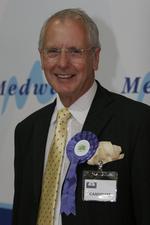 by Alan McGuinness
One of Medway's most senior councillors has confirmed he has put himself forward to stand as Kent's first elected police commissioner.
Conservative Cllr Mike O'Brien has submitted his name to party headquarters for the role, pitting him against Iraq War veteran Colonel Tim Collins.
Col Collins, who has claimed "the bureaucrats are in charge" of policing, is famous for his speech to troops on the eve of the conflict.
Another of the Towns' councillors, Craig Mackinlay (Con), is in the running.
There can be only one candidate per party.
The election for the job, which has been introduced by the government to replace police authorities in holding forces to account, will take place on November 15.
The eventual winner will also have responsibility for setting the budget and priorities.
Cllr O'Brien is a former insurance advisor and councilor of 37 years.
He chairs the Community Safety Partnership between the council, police and other agencies and is in charge of community safety at the council.
Cllr O'Brien told the Medway Messenger in February he was keen to recruit more special constables and cut anti-social behaviour if he wins the election.