A Medway company has been fined £140,000 over the death of an employee in a horrifying work accident.
Balwinder Singh Aulkh, of Gravesend, was trapped for several hours in a grain silo at Veetee Rice in Neptune Close, Medway City Estate, Strood.
The 46-year-old rice miller's left leg had to be amputated to release him from the machinery but he was dead on arrival at hospital.
The company, which had a turnover of almost £46 million last year, admitted breaching a Health and Safety regulation covering use of equipment.
Quentin Hunt, prosecuting, said the tragedy would have been prevented by a cheap padlock being put on the outer door of the silo to stop workers entering.
Mr Aulkh, of Damigos Road, Gravesend, was at work on on September 11, 2006, when he spotted on a computer screen that the flow of rice from the silo was slowing down.
He went into the silo to investigate and his leg became entangled in the underfloor screw conveyor – a piece of machinery used to take rice from the silo. The alarm sounded and another worker, Mohammed Arshad, heard Mr Aulkh's screams.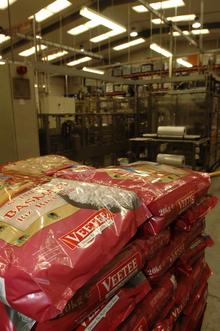 "He was understandably in a lot of distress," Mr Hunt told Maidstone Crown Court. "The conveyor was stopped. Attempts were made to reverse it to free his leg. That was impossible."
The emergency services arrived and eventually amputated the leg, but the married father, who worked for Veetee for 12 years, did not survive.
Judge Jeremy Carey said: "This must have been a truly horrendous experience for this poor man. Waiting in that silo to be removed must have been pure hell for him.
"This must have been the most deeply traumatising experience."
The HSE said in a statement that the firm had already pleaded guilty to contravening regulation 11(1) of the Provision and Use of Work Equipment Regulations 1998 at a previous hearing at Medway Magistrates' Court. The company was also ordered to pay costs of £20,500.
Mike Walters, HSE Principal Inspector in Kent, said: "This incident could so easily have been prevented if Veetee Rice Limited had ensured that a suitable system was in place to prevent access to the silo unless the screw conveyor was electrically isolated.
"HSE will not tolerate employers exposing their workers to unacceptable levels of risk in the workplace and this case highlights the fact that something as simple and cheap as a padlock could have prevented someone being killed at work."