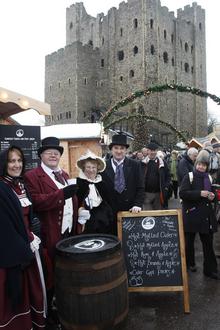 A Christmas market will be held in Rochester this year after the council stepped in.
The event will run on December 1 and 2 and then from December 6-9, as part of a series of events called Christmas in Rochester, with a Dickensian Christmas weekend also taking place on December 1 and 2.
The market, which will be open from 11am to 6.15pm on each day, will include a mix of stalls and a children's fun fair.
The Christmas lights will be switched on a month earlier, on November 14.
Cllr Kelly Tolhurst (Con), who represents Rochester West, said: "It was a great disappointment when the organisers of the pulled out for 2012.
"We have been working hard with council officers to develop an alternative for this year."
The Dream Workshop announced in March it was pulling out of a seven-year deal for the event in the Castle Gardens as it wasn't financially viable.
Spokesman Bob Cole said the money gained from stallholders wasn't enough to cover the operational and marketing costs.
The inaugural German-style market in 2010 attracted around 120,000 visitors but numbers were thought to have been hampered by heavy snowfall.
In 2011, the opening hours were reduced but numbers are thought to have almost doubled during the three-week period and the event, which was opened by rapper Vanilla Ice, attracted up to 100,000 visitors in its first weekend.
Details on how the market would be funded weren't clear as the Medway Messenger went to press, although a council spokesman did say there would be charges for renting stalls.
Any businesses or stall holders who are interested in taking part should call the council's event team on 01634 338176.