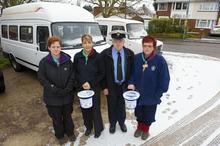 Sea Scouts have been left without transport after thieves ripped the exhaust pipe from their new minibus.
The group had just raised £3,600 to purchase the second hand vehicle last month.
Members of the 4th Gillingham (Rainham) Sea Scouts are now without transport after the exhaust was taken on Thursday, November 29.
Julie Clayton, in charge of fundraising, said: "We had organised many fundraising events so we could purchase a second-hand bus last month. It is parked off road, next to our headquarters in Berengrave Lane, Rainham, but on Friday, we were gutted to discover the whole exhaust system had been stolen."
The group will be at B&Q in Will Adams Way, Gillingham, tomorrow (Saturday) and Sunday to do a collection to try and raise the £400 needed. They are also hoping someone may be able to help them with a replacement.
Call Julie on 07759 539796 or email julie206@blueyonder.co.uk. Anyone with information about the theft should call police on 101.