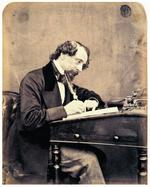 A statue to Charles Dickens will be placed in his birthplace of Portsmouth - against his dying wishes.
And now a local historian says we should think seriously about our own memorial to the great writer.
The £118,000 monument was commissioned by the Dickens Fellowship. It is the second time his wishes have been ignored.
Dickens died in 1870 after suffering a stroke. He had asked that no statues or memorials should go up in his honour but one stands in Philadelphia in America and another in Sydney, Australia.
Dickens grew up in Chatham and also loved Rochester and went on to live in his dream home, Gad's Hill in Higham.
David Hawes, a committee member for the Rochester and Chatham Dickens Fellowship, said: "Remember it was also his dying wish to be buried at Rochester Cathedral, and that didn't happen.
"I think it's down to how you interpret what he was saying. Was he talking about straight after he died? The Victorians were very over-the-top with their funerals and he wrote a lovely piece berating funerals and funeral directors.
"I'm on the fence but there are an awful lot of people in one camp or the other. Our president Gerald Dickens, his great-great-grandson, is in favour but I know some of the Dickens family members aren't."
He added he was not upset the statue will not be in Medway: "We've got so much related to Dickens in Rochester, let Portsmouth have it."
Andrew Rootes, author of the two-volume History of Higham, said: "As the statue plan seems to be supported by both the Dickens Fellowship and members of Dickens' family, now might the time to reassess whether or not his memory might also be better served by erecting a statue in the county which so inspired him - both as a child and as the place he called home for the final years of his life."
Sculptor Martin Jennings will unveil the statue on June 9, the 133rd anniversary of the author's death.