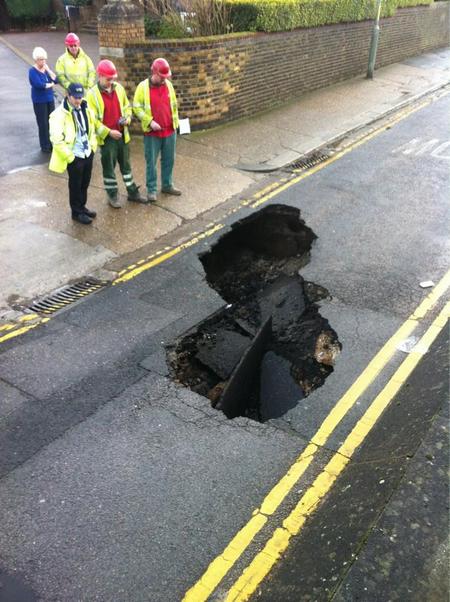 A primary school has re-opened after a large hole appeared in the road outside.
Police cordoned off Hill's Terrace, Chatham, yesterday morning (Monday) after a hole about 3ft long and 3ft deep opened up in the roadway.
It later widened to encompass almost the entire width of the road.
Water could be seen flowing freely inside the hole and other sections further along the road appeared to be partly-collapsed.
A Southern Water spokesman said a burst water main was to blame and seven properties were due to be without water until about 6pm yesterday.
It is thought St Michael's Roman Catholic Primary School was one property affected.
The school was closed at noon yesterday and children were sent home.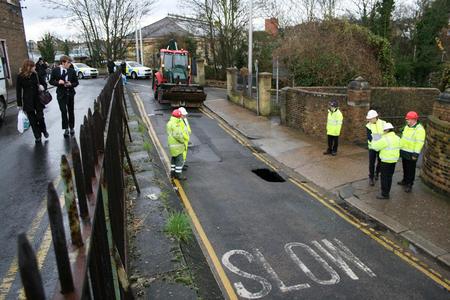 One mum said: "My daughter said they had no hot water so they were using baby wipes on their hands after going to the toilet.
"I live nearby and I have seen it for myself. It's a big hole - it's lucky no-one was hurt."
The school re-opened this morning (Tuesday) but the road will remain closed until later this week.
The hole was about 100 yards from Chatham railway station and near one entrance to the station car park.
Several onlookers stopped to watch after it appeared.
A Southern Water spokesman said: "We have repaired a burst water main in Hill's Terrace.
"The road remains closed while the road surface is reinstated. This will take a couple of days due to the size of the hole and the need for the materials to set properly.
"We apologise for any inconvenience this may cause."
The hole appeared days after a £1.25m boost to road repairs was scrapped from Medway Council's 2013/14 budget.